04 Mar
I came across some interesting tips for all you RC plane lovers that seem very helpful. Enjoy!
1. Easy Transmitter Case
Most new RC transmitters are delivered in  a cardboard box with a foam-fitting insert. This foam insert can easily be transformed into a convenient case for it without spending the extra cash. Simply throw away the cardboard box and use the foam insert.  Take some duct tape and place it all the way across one end to form a hinge. Then using white glue, epoxy or foam-safe ca, fasten a length of hook and loop tape to the other end as a lock, as shown in the picture below. Voila!  Now you have a safe and easy case for your transmitter.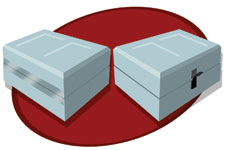 2. Save That Paint
Now that your plane is complete, want to save the paint for future touch ups or an unexpected landing? Need to mix up that perfect batch  for your brush or next air brush job? The perfect way to store your paints is in those plastic prescription bottles with the child-proof lids.  They are airtight, small, and most are see-through. They're also easy to label so you know which model you used them on.
3. Cooler Model Storage
This is a "cool" idea for easy transportation and storage of your models. Just buy a cheap, foam cooler and notch the sides to make way for the wings with the models positioned nose-down in the cooler. If you make the notches deep enough, the transmitter, extra batteries, or other accessories can conveniently fit at the bottom of the cooler.